NEWS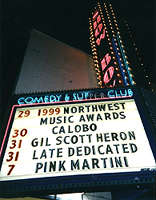 Bread Alone is an organization whose goal is to create a non-profit project in which 50% of the profits earned goes to charities that aide the homeless. Since our inception in May, we've donated money to:
The Noel House
The Friends of Francois (nearly 100% of their donations goes into cooked meals for the needy)
July 12, 1999 - "The Bread Alone Project: Volume One" compact disc was nominated by the 1999 Northwest Music Awards in the category, Best Compilation of the Year. The following bands contributed one or more songs to this compact disc: The Whole Bolivian Army, Matt Bruno, Juxtapose, The Petting Zoo, Stop That, and Anubis.
IT'S OFFICIAL!!! The Petting Zoo's Thom Brennan has won the OSCAR for his sound effects in the film: "The Matrix"...he also won the Golden Reel Awards for the same category and film! Additionally, Thom has worked on "The Mummy"and "Romeo Must Die"...among other films.
You can now hear five different songs from the CD on Giant Radio...tune in, on your computer!
Matt Bruno has been signed to Parasol Records! (also on Parasol are local greats, the Posies!) Matt Bruno's new CD was mastered at Bryan Adams' studio, the Warehouse!
During the last few months, The Whole Bolivian Army has performed LIVE on Seattle's KCMU! Their new CD, "Amnesty" has received airplay on KNDD, KISW, KSER, and KAOS!
Juxtapose will be performing LIVE on KSER: Saturday, May 13th, at 11:00 PM!!! Juxtapose was featured on Bellingham's radio station KISM...the show included airplay of their most recent CD "Crunchy Frog" and live interviews of the band! They've also played live on Channel 29's Racy Traci Show and on Raci's Live Internet Show!
Stop That recently performed LIVE on KSER's radio show, "Exposure" hosted by Peter Dervin!...and what a kind soul he is...tune in to his show...it's excellent. The music was simultaneously broadcast over the Internet! And since our visit, various cuts from the Bread Alone Project have been receiving airplay on KSER...and while you're at it, check out the brand new Stop That webpage!
Curt Golden is a great resource for guitar instruction and information about the Seattle Guitar Circle and Guitar Craft Seminars, taught by Robert Fripp (guitarist of King Crimson).
Frank Sheldon, a widely known Alexander Technique Instructor who has worked for over a decade with "Guitar Craft," has written an excellent novel entitled, The Jonah. I'm reading it right now, it's great!
---
To get on our mailing list, to order CD's, or to just say "Hi", send e-mail to:
Copyright © 1999-2000 Peter Kardas
Back to home